In this Issue...
A Message from Sedgwick MCO
May is...
Time is Running Out to Register! - OHLA Volleyball 2023
Stars of the Industry Nominations are OPEN
The Future of Lodging Summit takes on Cleveland
Membership Update
Government Affairs
Allied Council Corner
Emerging Professionals
Women in Lodging
Unique Lodging of Ohio
We need your input! - Events Survey
RMHC Charities of Central Ohio Donations
---

Open Enrollment for the selection of your managed care organization (MCO) is May 1-26, 2023. The Ohio Hotel & Lodging Association endorses Sedgwick Managed Care Ohio (Sedgwick MCO) as the clear MCO of choice for our members.
Your managed care organization plays a vital role in your ability to control claim costs, care for injured employees, and preserve your options for premium savings. The Ohio Hotel & Lodging Association has partnered with and endorses Sedgwick MCO, and encourage all of our members to join Sedgwick MCO because of their clear focus on helping injured employees recover and successfully return to work. Our members benefit through lower medical and claim costs, reduced lost time, improved employee health and productivity, and a well-organized workers' compensation program.
---
May is....


Join the Ohio Hotel & Lodging Association as we work to Champion Safety & Security for all and continue the necessary conversations needed to provide more opportunities, service, and outreach to more individuals in our industry. #ItStartsWithUs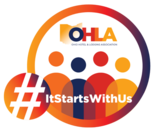 ---
Can you take the Competition? - OHLA Charity Volleyball Tournament

Presented by

There is still time to sign up your team for our 4th Annual Charity Volleyball Tournament on Saturday, May 13th!! Join us for fun, camaraderie, and competition for a good cause. Friends & Family welcome to attend.
Our Benefactor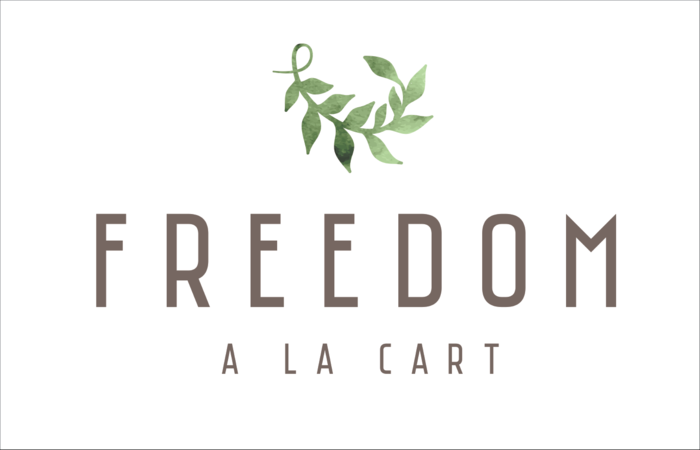 Thank you to our additional sponsors!
Set Sponsor


Bump Sponsors
---
| | |
| --- | --- |
| | Stars Nominations are OPEN! |

We want to know how your teammates made MAGIC for your guests this year! Did they....
Help someone who began their stay on a bad note?

Go above & beyond their role in order to maintain operations?

Prevent an emergency from happening?

Help the property exceed its goals for the year?


Big or Small we want to hear it all! - Help us share their story with our industry.


Don't know what category to pick or don't think your candidate fits? Category criteria is more inclusive than you think - see here. Email michele@ohla.org if you have any questions!

Deadlines:
Don't wait until the deadline, it's closer than you think.
Regional (Cleveland, Columbus, Cincinnati, Dayton) Deadline: July 10
Statewide Deadline: September 22
---
The Future of Lodging Summit Takes on Northern Ohio!

Your OHLA Education & Workforce Development Committee presented their second Future of Lodging Summit this past Thursday, April 27 at the Aloft Cleveland Downtown & Lago Custom Events. Attendees got to work together through case studies, voice their point of view on the subject matters, and hear from dynamic speakers, some from right in our backyard.
John Carpenter of Snelling Hospitality began the morning with highlighting the three dynamic skills required for a successful hiring process & growth of your business: Flexibility, Adaptability, and Creativity. When your organization can learn to bend traditional practices without breaking them, adjust to circumstances swiftly, and brainstorm unique ways to solve your hiring or staffing issues they will be more successful.
Continuing the momentum was Stephen Stewart, Hyatt Regency Columbus, channeling the group's ability to empower their staff. He shared with the group his own experiences in creating a "building blocks" approach in order to create a foundation to build from, how leadership has a responsibility in their actions to empower, and to make sure there is a clear "ladder of progression" for your staff to grow.
Taking us home was Diana Starks, Federal Reserve Bank of Cleveland; Monica Jones, COTA; Sheena Costa Flowers, Hexion; & Steve Williams, Spectrum imparting their wisdom and the importance of Diversity, Equity, Inclusion, and Belonging (DEIB) in your organization. Panel topics included the 'business case' for DEIB, integration into the workplace culture and your surrounding community, and how these ideas should be incorporated into your workplace hiring and retention processes.
A full recap of the event will be coming soon at www.ohiolodging.com/future_lodging


Didn't make it to Cleveland?
Plan to attend the Future of Lodging Summit Cincinnati
Wednesday, October 11, 2023
Cincinnati, OH
Future of Lodging Summit Support:
Sponsorships are available to continue support at Cincinnati's The Future of Lodging Summit. Interested? Contact cindy@ohla.org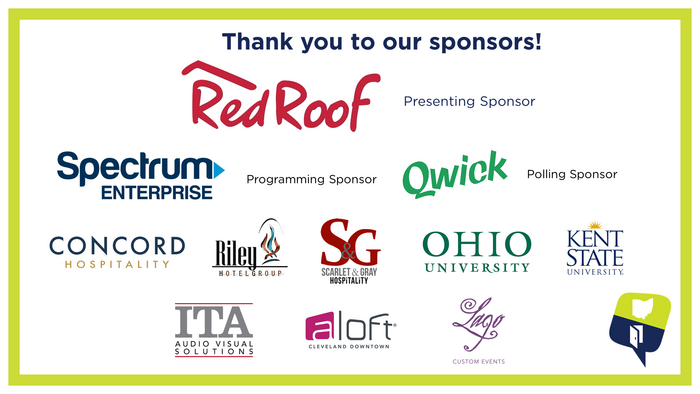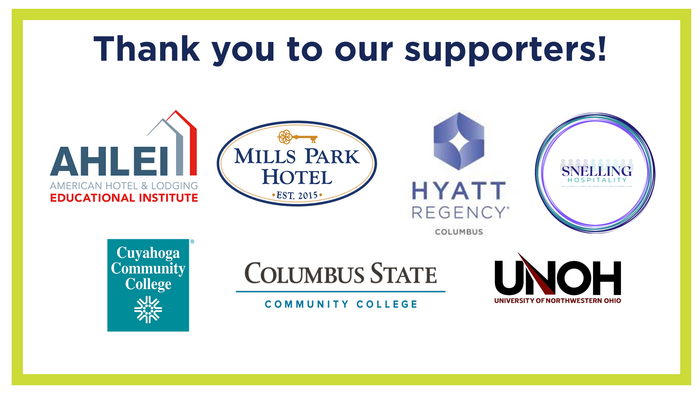 ---
Membership Update - Renewals
Cue the confetti. It's OHLA's 130th anniversary and we thank you for being a part of our 130-year history! OHLA is YOUR association.
If you have questions or concerns regarding your renewal invoice or your membership, contact Lauren@ohla.org.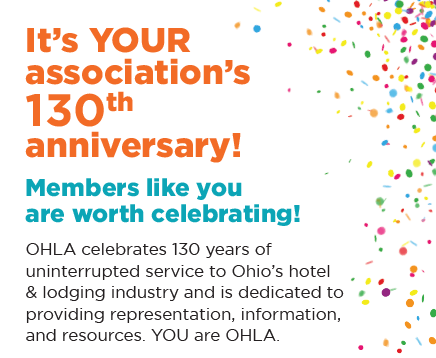 ---
Government Affairs Update


Two Opportunities to Make an Impact for Hotels with Lawmakers
OHLA has two events in May to help hotel & lodging businesses connect with lawmakers and key officials who impact our industry – the 2023 Hotels on the Hill national legislative summit in Washington, D.C., and the 2023 Ohio TourismWorks State Lobbying Day in Columbus.
On May 16-17, Hotels in the Hill allows you to join hoteliers from across the country, meet with Members of Congress from Ohio, and share the issues impacting your business, your guests and the great people who work in our industry. We are planning a group event and a chance for attendees to learn and participate together, including a dinner event for Ohio attendees with Congressman Mike Carey. OHLA can provide scholarship/stipend support to make participation easy! See the information page for details.
On May 9, Ohio's travel economy organizations will gather in Columbus for the Ohio TourismWorks State Lobbying Day. OHLA partners with Ohio Travel Assn., the Ohio Assn. of Convention & Visitor Bureaus, Ohio Restaurant Assn., and others to share a message about the impact of our industry. This year, we will also make critical asks, including adequate support for the state's new expanded marketing mission, including attracting visitors to Ohio. Registration for this event is available here.
If you are interested in our advocacy days, or in helping shape policy and strategy as part of our Government Affairs committee, contact joe@ohla.org.
See more in the full Government Affairs Update.
---


Exhibitor Working Group
On Thursday, May 4 a group of Allied Members and lodging professionals will be coming together to discuss the overall exhibitor experience and what OHLA, Allied Members, and our lodging community can act on. This information will be used as part of our July Membership Committee, inclusive of our Allied Member Working Group, and our Events & Annual Conference Committee. If you are interested in volunteering on a committee, council, or working group; contact Lauren@ohla.org.


Sponsorship & Advertising Feature

Quarterly Collaboration Collectives are back by popular demand! Eager to get in front of management company and ownership leadership? Ask them questions? Make a sales pitch? Get feedback? This is your opportunity. Email Lauren@ohla.org to learn more about this exclusive sponsorship opportunity.
Partner Offer -
---
OHLA Emerging Professionals



Every Third Thursday of the month the industry is invited to get together over a BYO (bring/buy your own) coffee, lunch, or cocktail hour!
May 18
4pm - 6pm
Land Grant Brewing Co.
Help us expand the Community! - Who are your EPs?
Who on your team is new to their job? Who on your team has recently stepped up to bat in a BIG way? Who would you like to provide introductory education for?
Introduce us to them! We would love to be an opportunity for your associates to further their education, widen their network, and help them grow as a leader.
Who can you recommend on your team? Email michele@ohla.org
Thursday, April 20th your OHLA Emerging Professionals hosted Eggs + Executives: An OHLA Leader Q&A at the Columbus Marriott Northwest! A first time event, our seasoned industry leaders shared with our attendees about their diverse backgrounds, educational experiences, and passion for hospitality.

A HUGE thank you to Michael-lynn Evans, AP Consulting; Stephen Stewart, Hyatt Regency Columbus; George Limbert, Red Roof; Nicole McCabe, Inn & Spa at Cedar Falls; and Holly Salay-Hollingsworth, Makeready for sharing your expertise with our EP Community!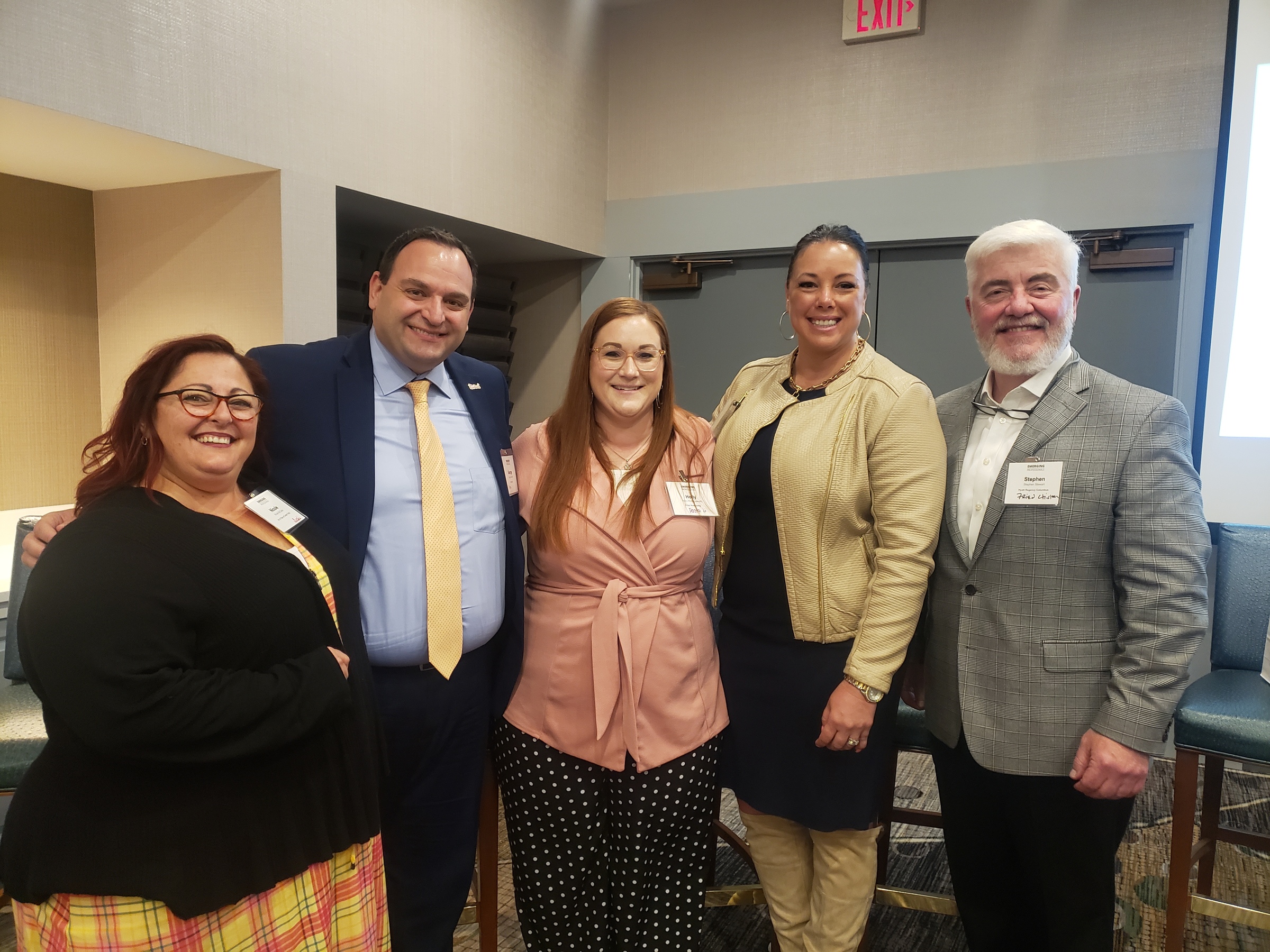 ---
Women in Lodging CONNECT
Annual Women in Lodging Leadership Luncheon Returns June 15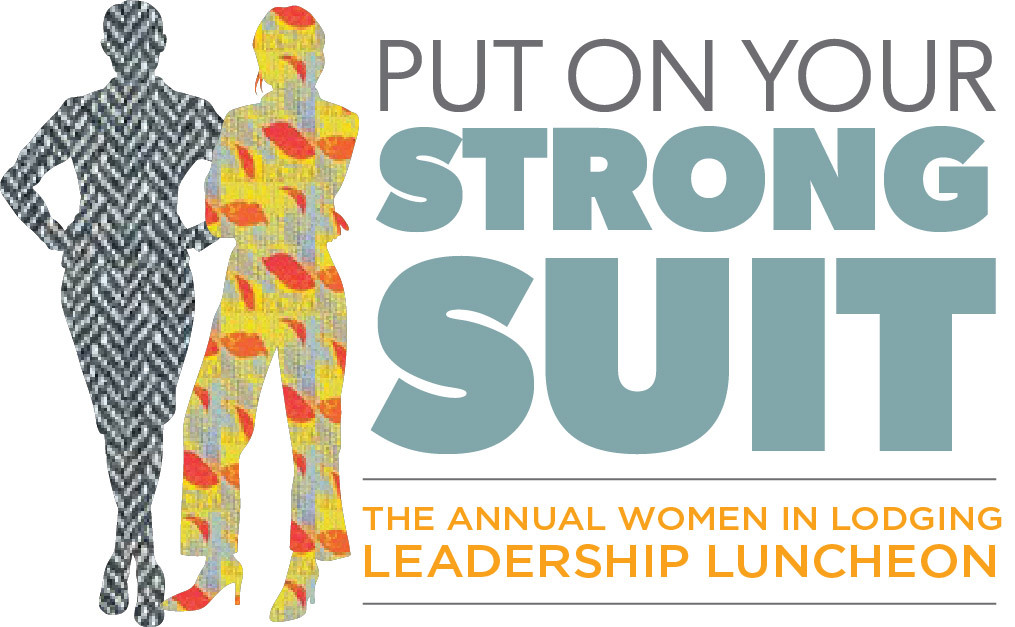 June 15, 2023
11am - 2pm
Columbus, OH

Online Registration to Open next week. Want us to hold your spot? Email michele@ohla.org.
Featuring:
-A Panel of Leaders with Diversity in Experience
The panel will discuss the importance of networks/mentors, the idea of work/life harmony, and their thoughts behind inspiration & empowerment
Panelists:
Lisa Garner, Dual GM Emcee & Moderator
Shannon Sprau: CEO, Meridian 360
Dirk Bengel: General Manager, The Hancock Hotel
Andrea Thomas-Washburn: Owner, AW Events & Décor
Ann Balut: General Manager, Courtyard by Marriott & Grand Event Center



-Our Keynote, Alisa Klepser
ENGAGING YOUR WORTH - A Conversation on Wellness and Humanity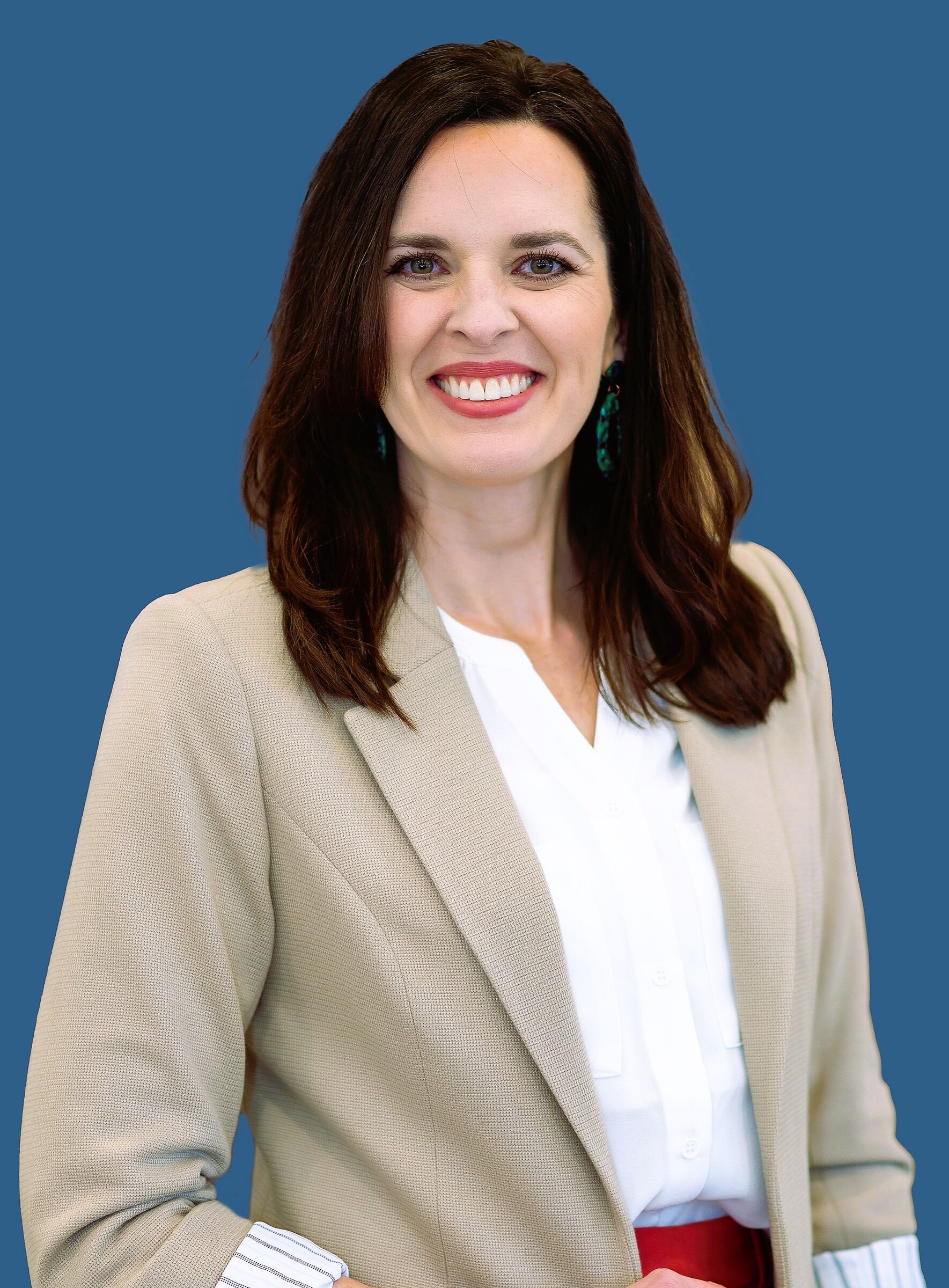 Keynote Speaker will be Alisa Klepser, sharing her presentation of "I am the Strong Suit." Klepser is a Clinical Counselor, Transformational & Wellness Coach, an educator and speaker.
With Alisa's signature style of science and soul, she provides one-of-a-kind, thought-provoking, knowledgeable conversations with her audience that will challenge them to create sustainable change.
Alisa will be recognizing the whole self is the strong suit, not just one specific strength, while giving you a framework for understanding the key elements of self.



-The Support of Freedom a La Cart
We are hosting a donation of items to support the survivors of Freedom a la Cart programs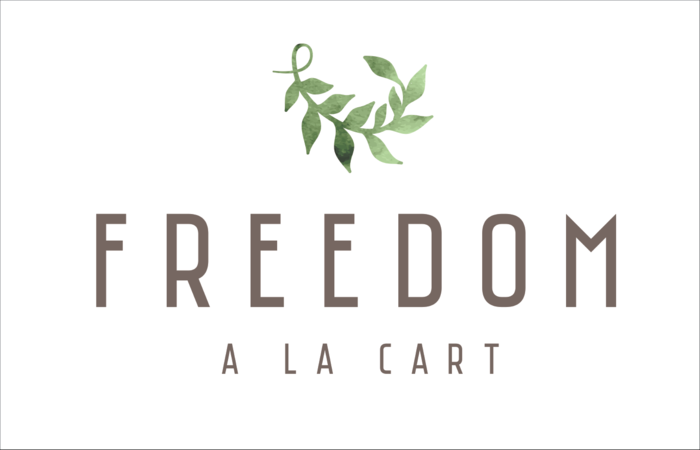 Items are being collected the entire month of May, beginning of June, and at the June 15 Luncheon.


-An interactive artistic element
OHLA Partner & Sponsor, Reese Brothers will be yet again adding a surprise element to our programming... what will it be?
Thank you to:
2023 WIL Connections Sponsor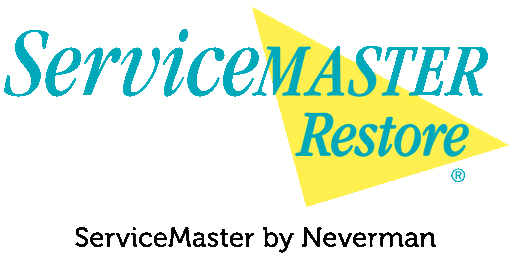 Supporting Sponsors
---
Unique Lodging of Ohio


Passionate about and looking to get involved with your association's ULO Community?
Applications for ULO council are open. Join a diverse representation of independent properties to establish ULO track education at Annual Conference, supplemental education, ULO-specific resources, marketing co-ops, and so much more! Interested? Contact Nicole McCabe, ULO Council Chair, at Nicole@innatcedarfalls.com.

Webinar Series: Part 2 | Improve Your Google Ranking: Get Your Business Found and Chosen Online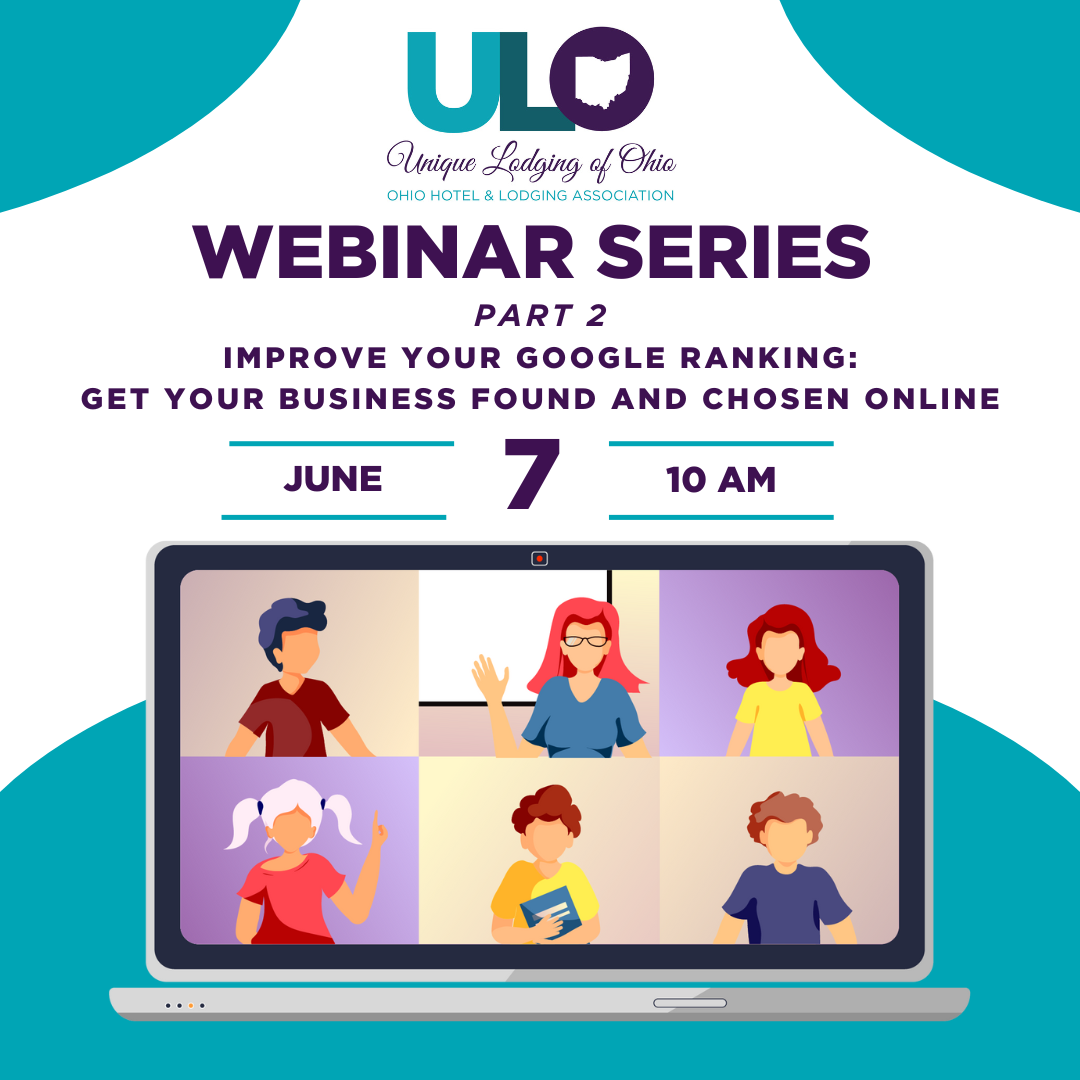 In this workshop you'll learn our top tips to improve your Google ranking which will help your business show up higher in relevant search results. We'll discuss the importance of optimizing your Google Business Profile (GBP) and adding profile, social, web page and review link signals to boost your online visibility to attract more customers!
What You Will Learn:
How to get your business to show up higher in local search results
Best ways to optimize your Google Business Profile
How to leverage the power of Link Signals
Tips for generating more positive reviews for your business

ULO of the Year Nominations are OPEN!!
Do you believe your ULO property stands out from the rest? Do you provide exceptional services to your guests? What makes your property special?
We would like to know this and more about a property that you believe needs some recognition among our industry! Self nominations are accepted.
---
We need your input!
What events would you like to see from us?
OHLA is always looking for ways to expand, especially in the area of events, trainings, & education! What would you like to see in your area of the state? New events will be popping up in several regions of the state as early as Q3 of this year. What kind of events are you and your staff looking for?
We need your input.


Would you rather send your ideas directly? Email to michele@ohla.org
---
A Message from our Friends at Ronald McDonald Charities of Central Ohio
Ronald McDonald Charities of Central Ohio are looking for items to assist them in outfitting their new guests rooms and kitchen/dining area as a part of their recent expansion. Anything helps and used items are welcome. RMHC of Central Ohio will be able to serve over 6,500 families with sick children each year once their expansion is complete. You can learn more about their House and Programs here. https://rmhc-centralohio.org/about/
Expansion Wish List -
Kitchen Needs:
Plates
Cups
Silverware
Dish racks
Serving utensils
Guest Room Needs:
Housekeeping carts
Luggage carts
Lamps
Shelving of any time
Full-sized linens
If you wish to contribute or if you have any questions contact lauren@ohla.org.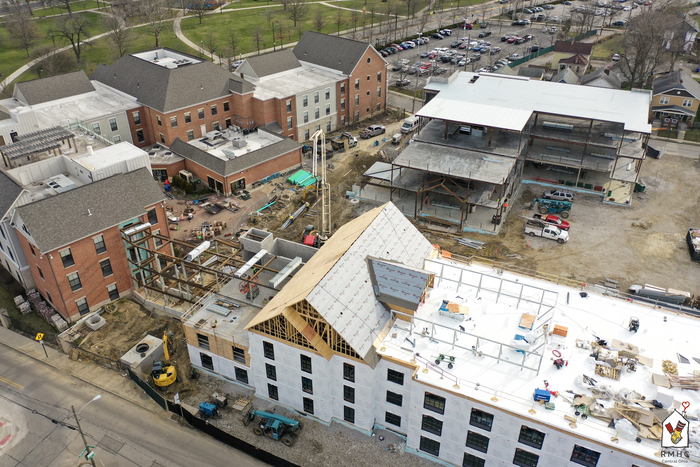 ---
Thank you to our Premier Partners for their support of the hotel & lodging industry!
Each month will will highlight a few of our Premier Partners & demonstrate how they can help YOU with your daily operations! Questions about services provided? Contact michele@ohla.org.
| | |
| --- | --- |
| | We are a locally owned and independent bottler. We service the Central and Southern Ohio. We distribute Pepsi and Dr Pepper Brands along with Starbucks, Gatorade, Life Water, Lipton, and SOBE. |
| | Improve your guest experience with asset, facility and equipment management in one universal technology platform. Leverage SpaceIntel's virtual reality, 3D interactivity, and predictive analytics to solve operational pain points so your team can focus on their main goal – superior guest service. |