REGISTER NOW!
2017 OHLA Annual Conference & Gala
November 20-21, Columbus, OH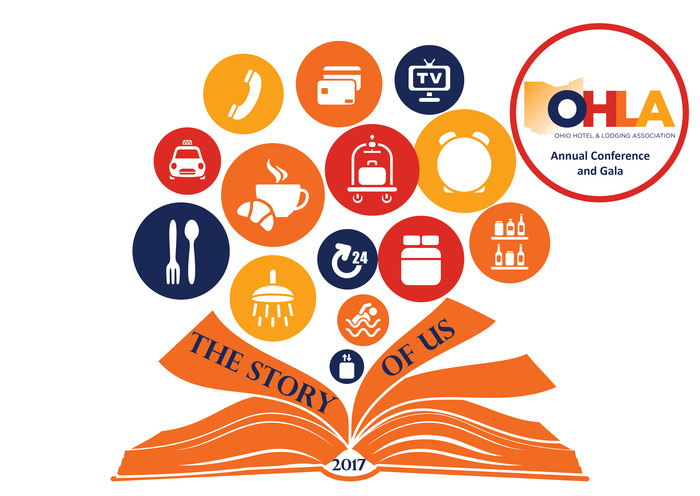 Hyatt Regency Columbus Downtown and the Greater Columbus Convention Center
| | |
| --- | --- |
| | |
| | |
Tentative Schedule
Time/Date
Chapters
Authors & Location
Monday
8-8:45 am
New Member Breakfast
Hyatt Regency
7:30 - 8:45 am
Breakfast for everyone and registration
8:45 - 9 am
Welcome Message
Dirk Bengel and Joe Savarise
9- 10 am
General Session:Change Management Collaboration
Karen Hough, ImprovEdge
10 - 11 am

General Session: Ohio Lodging Outlook

---

Student Session: Resume Review and Interviews

Eric Belfrage, CBRE & David Sangree, Hotel and Leisure Advisors

---

EDU/WFD Committee

11:00 - 11:30 am
Exhibitor Break & Coffee
Student Headshots
11:45 - 1:30 pm
Lunch & OHLA Annual Meeting
Allied Member of the Year Award, Community Award and Educator of the Year Award
1:30 - 2:15 pm

Breakout Plots: F&B Trends: What's Hot?

---

How to Respond in an Active Shooter Situation

---

AIHP&OHLA Collaborative

---

Student Session: Building your Personal Brand

Panel: Steve VanStone, Gran Bain, Colin Vent, Bill Glover

---

Columbus Police, Lt.Paul Ohl

---

Rob Fulton, Halle Markwas and Panel

---

Roundtable Discussion - Tara Casey, CHM,

2:30 - 3:15 Pm

Breakout Plots: Social Media Shifts Toward Motion and Video Graphics

---

What's New in the Legislative World?

---

The Revenue War Room

Kelsea Wiggins, Cement Marketing

---

TBD

---

Jamal Feerasta, University of Akron

3:15 - 3:45 pm

Exhibitor Break & Ice Cream

Student Headshots

3:45 - 4:45 PM

General Session: Creating a Culture of Retention

Karen Moser, HR Consultant
5:15 - 6:16 pm

Owners and Management Company Reception

Location: Hilton Columbus Downtown Bar
5:15 - 6:15 pm

ULO Reception

Location: Denmark on High
6:00 - 7:00 pm

Cocktail Hour and Reception

Location:GCCC North Atrium
7:00 - 10:00 pm

OHLA Ohio Stars of the Industry Awards Gala with keynote and emcee: Ken Schnacke, Columbus Clippers

Location: GCCC Short North Ballroom
TUESDAY
7:15 - 8:15 am

WIL BREAKFAST: The Road to Leadership

Elaine Roberts, Cathy Lyttle
8:00 - 8:30 am
Breakfast for everyone and Networking
8:30 - 9:15 am
Breakout Plots: Customer Experience Management

---

Human Trafficking in Ohio: How the Hotel and Lodging Industry Can Respond

---

Building Trends and Better Construction Techniques for the Hotel Industry
Scott Mclaughlin

---

Sophia Papadimos

---

Ohio Concrete
9:15 - 9:30 am
Exhibitor Break and Coffee
9:30 - 10:15 am
Breakout Plots: Hosting Exceptionality

---

How to Proactively Combat Turnover

---

Power Hour: Speednetworking!

OCALI

---

Nicole McCabe, Mary Faust, Kathyrn Burton

---

Open to registered attendees
10:15 - 10:30 am
Exhibitor Break and Coffee
10:30 - 11:30
Keynote Speaker

TBD
Monday
Ohio's Lodging Outlook: Hotel & lodging outperforms some other segments of our economy, and hotel building projects are continuing in almost every market. New entrepreneurs are looking for ways to enter the Unique Lodging sector every week. But many professionals sense a looming end to growth and expansion. What does analysis uncover regarding the performance of the hotel & lodging business across our state, both at the present time and in the months and years ahead? This segment will take a deeper look at hotel trends and the overall economic climate, to help you get a clear picture of where our industry is headed. Eric Belfridge from CBRE and David Sangree of Hotel & Leisure Advisors lend their nationally-recognized expertise to helping us see what's next.
Allied Wake Up Session: Make the most out of your conference experience! This wake up session will prep you for who you'll meet, how best to engage them and identifying "don't-miss" opportunities provided by your inhouse membership expert and former hotelier, Halle Markwas.
Keynote Wake Up Session: Change Management Collaboration- Join ImprovEdge for a highly interactive speech which will explore change, its impact on leaders and teams, and how we more effectively manage the inevitable changes in our corporate lives. The little-known fact is how well following the four principles of improv can help you manage change for yourself and your team. Leaders can apply improv to be more flexible, responsive and adaptive. In this session, attendees explore new ways to manage change through improv, effective communication and better employee engagement.
F&B Trends: What's Hot?: F&B has become a leading factor in developing a hotel's personality, creating a sense of arrival and destination, and differentiating outstanding properties. What does the future of hotel dining look like? How can hoteliers convert their F&B into a foremost guest amenity, while simultaneously creating a dining destination for local clientele?
How to Respond in an Active Shooter Situation: Learn from Columbus Police, Lt.Paul Ohl how to prepare yourself if you were to have an active shooter situation in your property, inn or business. In today's world, safety is one of the highest concerns and this session will prepare you for better response if a situation like this were to ever occur.
Unique Insights: An Update on the Future of Small Independent Lodging - Join Rob Fulton, CEO of the Association of Independent Hospitality Professionals to talk about the future of small independent lodging. We will discuss short term rentals, OTA's, the challenges that small independent lodging establishments are facing in today's environment and the latest industry statistics. We will also discuss how the OHLA – ULO and AIHP partnership can provide you with much needed resources to help you stay on top of the small independent lodging game.
Student Session: Building your Personal Brand – This roundtable discussion will have 5 professionals with expertise in topics ranging from Social media with focus on LinkedIn, Hospitality Job Search Resources, Professional Image and Etiquette, Interview follow ups and thank you's and industry student membership groups.
The Revenue War Room: Numbers tell a story. To some it is meaningful and to others it could be intimidating. Learn how big brands do Revenue. This presentation is a simulation game (REVMANS) that introduces students, novices, independent property owners and mid-level managers in hotel operations to demystify the operational data. REVMANS is a simulated game that will give the audience a very good idea about the impact of managerial decisions on revenue centers and the bottom line.
Social Media Shifts Toward Motion and Video Graphics: How to best present yourself and your company on the world's most powerful professional networking tool, social media and learn how social media is shifting towards more motion and video graphics.
Creating a Culture of Retention: How can you create a culture in your organization where employees are engaged, productive and most importantly create an environment where turnover is greatly reduced?
Public Policy and Our Industry:
No matter how well you run your operation, your profitability and success depend in part on external forces. Laws and regulations impact hotel and lodging every day. Not just in terms of codes and rules, but in terms of the general environment for business growth. Hear from key public officials about ways our industry can be more proactive and build support for policies that grow the travel economy.
TUESDAY
Human Trafficking in Ohio: How the Hotel and Lodging Industry Can Respond- In this presentation, participants will gain an understanding of human trafficking. Attendees will also learn about Ohio's response to the crime on the local and state level. Additionally, participants will learn the signs and indicators of someone who may be trafficked and how to respond appropriately in their respective professions.
How to Proactively Combat Turnover: One of the largest challenges we face in the hospitality industry is turnover. By attending this session, you will hear from a panel of hotel and independent property's human resources and operations experts who will share their unique perspectives and strategies to assist you in devising a plan to overcome this challenge
Customer Experience Management: Why customer experience management is more critical than ever? The concept of customer experience may sound idealistic or too emotional, but anyone who dismisses it is woefully out of touch. In fact, customer experience has become a critical differentiator in today's hyper-competitive, hyper-connected global hospitality marketplace. There's tangible business value in managing the customer experience effectively. Good customer experience management can: Strengthen brand preference through differentiated experiences, Boost revenue with incremental sales from existing customers and new sales from word of mouth, Improve customer loyalty (and create advocates) through valued and memorable customer interactions, Lower costs by reducing customer churn.
Power Hour: Speed Networking - Interested in hearing industry stories? Curious how someone they got to where they are now? Join us for POWER HOUR Speed-networking!
Hosting Exceptionality: In this presentation participants will be introduced to information and resources to increase their knowledge to assist them with enhancing the travel experience for individuals with disabilities and their families. Attendees will be introduced to projects powered by OCALI (Ohio Center for Autism and Low Incidence) that support individuals with autism, as well as learners with deafness and blindness.
Concrete Design and Construction Techniques for the Hotel Industry: Ohio Concrete will present on Parking Lot Design to reveal myths between concrete and asphalt, and common design concerns during construction that may be considered road blocks to builders, designers and owners. Also, they'll present on Insulated Concrete forms (ICF). These forms allow for a reduced construction cycle, get you LEED points, energy savings, sound reduction and more.
Register & Hotel Information
---
For secure online registration, REGISTER TODAY!
Pricing (Early Bird Pricing - Late Fees begin Nov. 6)
---
Full Conference (Includes Gala):
| | |
| --- | --- |
| Exhibitor Full Tradeshow and Gala | $499 |
| Additional Exhibitor Full Tradeshow and Gala | $249 |
| OHLA Member | $299 |
| OHLA Additional Member | $199 |
Exhibitor Tradeshow Only (No Gala):
| | |
| --- | --- |
| OHLA Exhibitor | $399 |
| OHLA Additional Exhibitor | $149 |
Student Registration (Monday):
Gala only:
| | |
| --- | --- |
| OHLA Member | $99 |
| Gala Table | $999 |
Non-member Rates:
| | |
| --- | --- |
| Non-Member Full Registration | $429 |
| Non-Member Gala | $149 |
Hotel Room Blocks
Hyatt Regency Columbus Downtown Register at the Hyatt Regency

| | | | | |
| --- | --- | --- | --- | --- |
| Date | Day | Standard Double | Standard King | Rates |
| 11/19/2017 | Sunday | 20 | 20 | $119.00 |
| 11/20/2017 | Monday | 25 | 25 | $119.00 |
| | |
| --- | --- |
| Single Occupancy: | $ 119.00 |
| Double Occupancy: | $ 119.00 |
| Triple Occupancy: | $ 119.00 |
| Quadruple Occupancy: | $ 119.00 |
Crowne Plaza Downtown and The Lofts Hotel Register at the Crowne Plaza Columbus Downtown
BLOCK CODE: OHL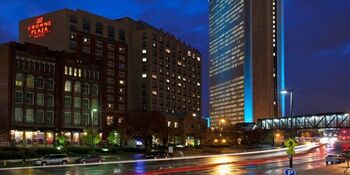 Sunday, 11/19 - 10 rooms, Single & Double Rate - $119.00
Monday, 11/20 - 10 rooms, Single & Double Rate - $119.00
Ohio Stars of the Industry Awards Sponsors
| | | | |
| --- | --- | --- | --- |
| Housekeeper of the Year | Service Rock Star of the Year | General Manager of the Year | ULO of the Year Award |
Current as of 9/07/2017, we update frequently. Please contact Christi Saunders if you do not see your logo above and believe it should be. Contact Cindy Sams if you are interested in Sponsoring or additional visibility at this year's Annual Conference and Gala.